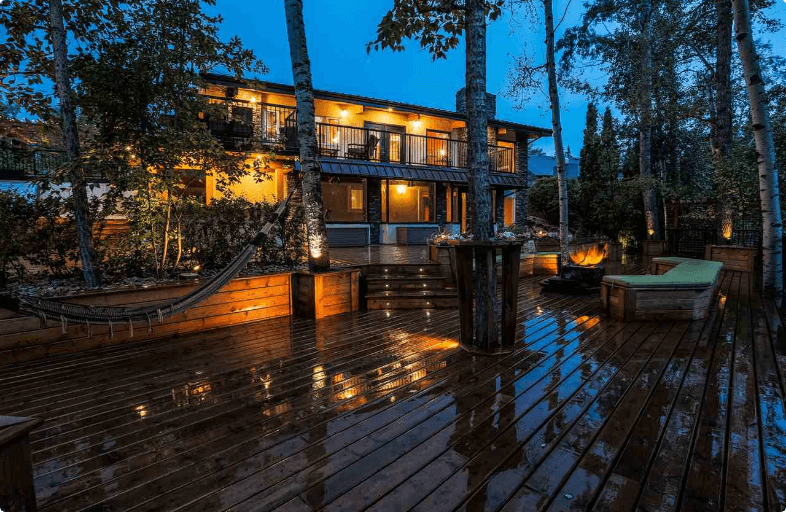 Light Up Your Yard With New Outdoor Lighting
With modern low voltage lighting configurations and innovative technologies, making the decision to get new exterior or landscape lighting installed is easier than ever. Not only is it cost-effective and energy-efficient, but having exterior lights installed makes your yard far more safe for your pets and guests to traverse through your newly installed patio or artificial turf. From ethereal lighting designs to garden feature highlighting, one can say that a modern outdoor lighting scheme is all you need to totally transform your landscaping.
Call the experts at the Isle Group to learn more about the variety of fixtures available, different installation methods, and how you can set up your own outdoor lighting in Edmonton at 780.951.2417.
Since outdoor lighting normally depends on a stepped-down power grid from your home, it's best to familiarize yourself with different lighting fixtures for optimal set-up and maintenance, such as:
Transformers
Bulb fixture housings
Stakes
Cables
To maintain the upkeep of your outdoor lighting, make sure you keep the fixtures free from leaves and other debris to avoid overheating. To maintain the safety of your family and guests, be sure to replace burned-out bulbs right away so that the rest of the setup will not be susceptible to voltage overloads.
When it comes to warranties, manufacturer warranties for outdoor lighting together with the transformers typically last for 1-10 years. Nonetheless, textures made of brass, copper and stainless steel can be expected to shine for an indefinite period of time.
Outdoor Lighting Products for Your Home
Exterior lighting is a great way to add a touch of class to your property, increase the security around your entrances, and boost the overall safety of your home. If you enjoy late outdoor nights with your friends, then properly lit areas are critical for making your outdoor space a practical and enjoyable place to be.
Illuminate your yard and make the most out of your space with:
Security lighting
Path lighting
String lights
Wall lighting and outdoor wall lanterns
Deck lights
Spot lighting
And more!
Outdoor Home and Landscape Lighting Company
We are an Edmonton-based landscape lighting company that sells and installs a wide variety of lighting options that are more than capable of withstanding the unpredictable Canadian weather. We have energy-efficient options that are simple to use and easy to install or modify. We also have lighting options that range from products with a softer, warmer glow to lighting setups with more of a brilliant shine! We also offer full layout and lighting design, and installation services.
Please Visit Our Edmonton Store for All Your Outdoor Lights
We want to help shed a little light on your outdoor lighting situation. We are a locally owned and operated company in Edmonton with outdoor lighting options to suit a vast range of project requirements both modest and large.
Give us a call and start making your outdoor landscaping all the more inviting!
Frequently Asked Questions
How do I choose an outdoor light?
Pick a reasonable size and colour. Outdoor lights do not need to be too big or too small, find something that works for your space. You can mix and match your outdoor light colour, they don't have to all be one colour, ensure you pick the best pick for you!
Can I leave my outdoor lights out in the rain and snow?
Yes, as long as they are outdoor lights they will be okay to wither the elements mother nature throws at them. The only concern is the two prongs on the plug- make sure the prongs stay so as to avoid blowing a fuse.
How far apart should outdoor lighting be?
When getting outdoor light, we need to pre-plan where they will end up. It is preferable to put your lights six to eight feet apart to ensure your pathway remains bright and well-lit.
Why choose Isle Group for my outdoor lighting?
The Isle Group of Companies is a family-owned and operated group of companies who believe in only delivering the best to our clients. Each company has an area of expertise and uniqueness that complement each other perfectly. Because of our specialized expertise and years of experience in the industry, Isle Group has the knowledge and skills to create the outdoor lighting your yard needs to shine!
How much does outdoor lighting installation cost?
The cost of new outdoor lighting largely depends on the number of lights you require, the difficulty of the installation, and the type of lighting you wish to purchase. For more information and quotes regarding our outdoor lighting services, contact us today!
When should you explore your outdoor lighting options?
You should consider lighting options as early in your project as you can. Some lights require trenching or horizontal boring so it is prudent to plan ahead so that your installation goes as smoothly as possible. Some fixtures are easier to install in completed landscapes; however, it is best to plan in advance regardless to avoid any unnecessary hurdles.
What type of light setup works best for outdoors?
The best part about landscape lighting is the wide range of options available for home and property owners looking to utilize outdoor lights for specific goals. Isle Group's team of landscape professionals can help you narrow down the right lighting options for your specifications.
For those wanting to amplify their yard security, we recommend setting up a design that involves motion sensors and floodlights. In addition, we recommend pathway lights and lighting spotlights for home or property owners looking to add some accent lighting to their landscaping or recent renovations. Large areas benefit significantly from the addition of floodlights, while spotlights help accentuate the one feature you want everyone to see.
For more information about which outdoor lighting, be sure to consult one of our experts at the Isle Group!
How are the exterior lights powered?
When it comes to outdoor lighting, you have three options to choose from depending on how often you plan on utilizing your exterior lights and your property's power source.
Low voltage which operates at 12 volts is the most energy-efficient outdoor lighting option that requires wiring. Line voltage setups operate at 120 volts and are best for landscaping that includes floodlights and high-powered lights. Solar-powered lighting requires only that the fixtures are placed where they will get the most sunlight.
Will outdoor lighting installation damage my landscaping?
Before our contractors and outdoor lighting installation crews begin our work, we create a plan to figure out the best way to install your desired exterior lighting systems in the most non-intrusive way possible.