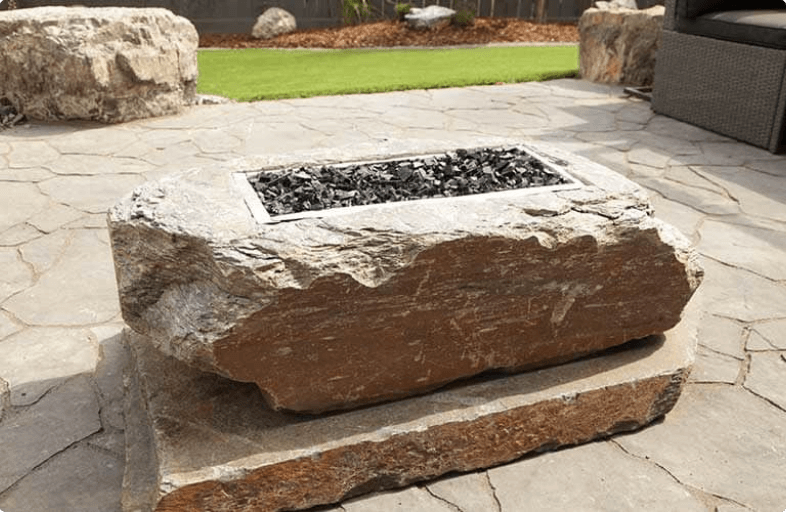 Beautiful Fire Features
The warmth of a fire brings people together. It represents comfort and togetherness, bringing a sense of unity to any outdoor space. Additionally, fire features add to the value of a home, making them not only an enjoyable investment but an intelligent one.
For these reasons, our team of highly-skilled and experienced Edmonton landscapers are proud to specialize in the design and installation of fire pits, fire tables, and other fire-focused accents.
For each of our projects, we source premium, industry-leading materials, prioritizing durability and longevity so you can enjoy your outdoor fire feature for years to come.
Some of the materials we use when designing and installing fire features include:
Stone
Tile
Metal
Brick
Slate
Concrete
Whether you're looking for a sleek, modern propane fire table to tie into your contemporary home, or a custom red brick fireplace to add some old-world charm to your outdoor space, we have the materials and the expertise to deliver a final product you'll be proud to call your own.
Frequently Asked Questions
Can I have a fire pit if I live in Edmonton?
Yes, you can have a fire pit in your backyard. Within Edmonton city limits, fire pits must: Be at least 3 metres (10 feet) from buildings, property lines and anything else that could catch fire. Be less than 0.6 metres (2 feet) high. Be less than 1 metre (3 feet) wide.
What is the best place for my fire pit?
A fire pit should be on hard rocks like granite, marble, or slate that are much denser, and therefore less likely to absorb water and explode when exposed to heat. Other rocks that are safe to use around and in your fire pit include fire-rate brick, lava glass, lava rocks, and poured concrete.
Are there more options than wood when getting my fire feature?
Yes, we have many options to choose from, whether your preference is a natural stone or manufactured fire kit; we can create it all from wood burning, natural gas or propane.