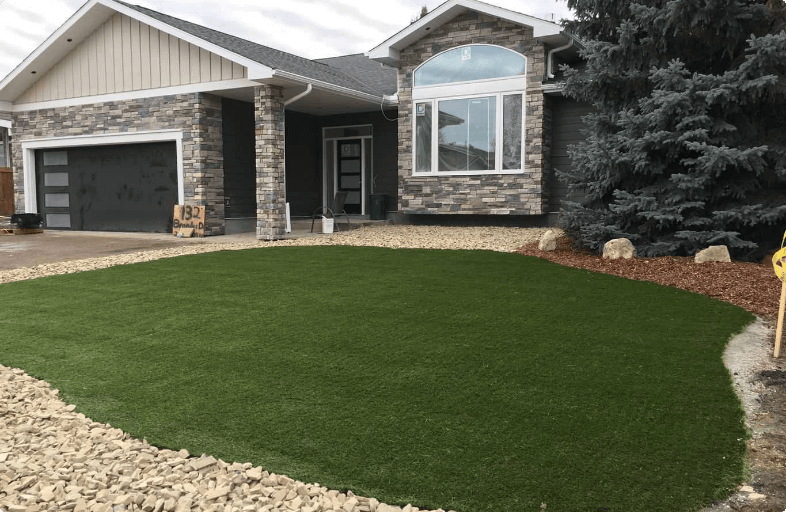 Edmonton Artificial Turf Replacement
There's no doubt that an all-natural, bright and vibrant lawn is idyllic. After all, man-made options rarely live up to the wild wonders mother nature creates. But in many cases, a natural lawn demands a ton of upkeep, especially if you want it to remain lush and lively.
Thus, business owners, homeowners, municipalities and others are turning to artificial turf in hopes of finding a more long-lasting, durable solution for their outdoor spaces.
Edmonton Leaders in Artificial Grass and Turf
Isle Group Edmonton are leaders in the synthetic turf and synthetic grass industry. We are using synlawn to transform the way artificial grass is used. Our lush, livable synthetic turf systems for landscapes, pets, playgrounds, roof, decks and patios are built to transform your Edmonton backyard lifestyle.
Install a Putting Green in Your Edmonton Yard
If you have ever wanted to put a putting green in your Edmonton backyard then artificial grass or turf is the product for you. More resilient than standard turf, artificial grass and synlawn have a longer life-cycle, and lower environmental impact than traditional turf and are perfect for putting. Isle Group Edmonton is proud to be your putting green, synlawn and artificial grass distributor for the Edmonton area, providing full-service sales, landscape design and professional installations in Edmonton.
Replace Your Grass With Gorgeous Synthetic Turf in Edmonton
Our knowledgeable synlawn and turf sales staff and artificial grass design and installations team in Edmonton are focused on providing you with the perfect synthetic turf solution to meet your residential artificial grass or commercial synthetic turf needs in Edmonton.
Get the Perfect Artificial Turf for Your Edmonton Home
Isle Group synlawn and turf is low-maintenance and manufactured using the best in artificial grass technology. Isle Group synlawn and artificial grass products simply look better and our synlawn and turf lasts longer than our competitors.
Your Edmonton Synthetic Turf Experts
At Isle Group, our team of seasoned turf specialists are trained and equipped to handle every stage of the installation process with precision, skillfulness, and professionalism.
When approaching your project, you can be assured that our installers will meticulously assess your landscape and ensure every last detail is accounted for.
We understand that our clients expect excellence, which is why we've developed our installation process to be thorough and as scrupulous as possible.
Frequently Asked Questions
What is artificial turf made out of?
Most artificial turf is made out of a blend of polypropylene and polyethylene, which is made into synthetic fibers to look like natural grass. After this,it is joined with rubber granules and silica sand to help keep the blades upright.
Does artificial turf need maintenance?
Yes, artificial turf does need some minatainece. It doesn't require as much maintenance as traditional grass lawns but it requires touch ups once in a while. Brush the artificial turf to keep the blades upright, control weeds and debris,remove stains, and do not use heavy chemicals or any combustables.
Is artificial turf safe for children and pets?
Yes, artificial turf is safe for children and pets. Some synthetic products are softer than natural grass, so falling during play doesn't leave injuries. It produces no pollen, so kids will likely see a reduction in allergies. There is infill that is antimicrobial, so it lessens the chances of bacteria spreading.
How long does it take to install artificial turf?
Each client is different as each project is different, therefore the duration of installation varies from space to space. At The Isle group of companies, we work with you to create a schedule that works for you. Contact us today to find out more about our artificial turf services.
How long does artificial turf last in Edmonton?
Contrary to the popular brief that artificial turf is not long-lasting, the average lifespan is 10-20 years. Regardless of the weather conditions that Edmonton experiences, as long as your turf is maintained properly, it will serve you for years to come.
Will weeds grow through my artificial turf?
If your artificial turf is laid properly, you should not see any weeds growing through it. To ensure that the grass is laid properly, please contact us today to find a professional installer that will make sure that the weeds are kept at bay.
Is artificial turf safe for the environment?
Yes, artificial turf is completely safe for the environment. This product is made using environmental-friendly standards and materials and helps conserve water. Therefore, artificial turf provides no harm to its surroundings.
Why should I have artificial grass installed in my yard?
Home and property owners looking to spend their time away from lawn maintenance will find that their answer lays in installing artificial turf. Not only will the installation help you save time but it will also save you money as there is no longer a need to water or fertilize your grass to get that nice green look. 
In addition, artificial turf is pet safe, mosty pest-free, and will stay fresh, lush, and healthy-looking for years to come.
Do I need infill or sand for my installation?
The need for infill or sand varies from project to project. We recommend calling one of our artificial turf experts today for a free consultation and receive a custom quote on what needs to be done for your lawn.