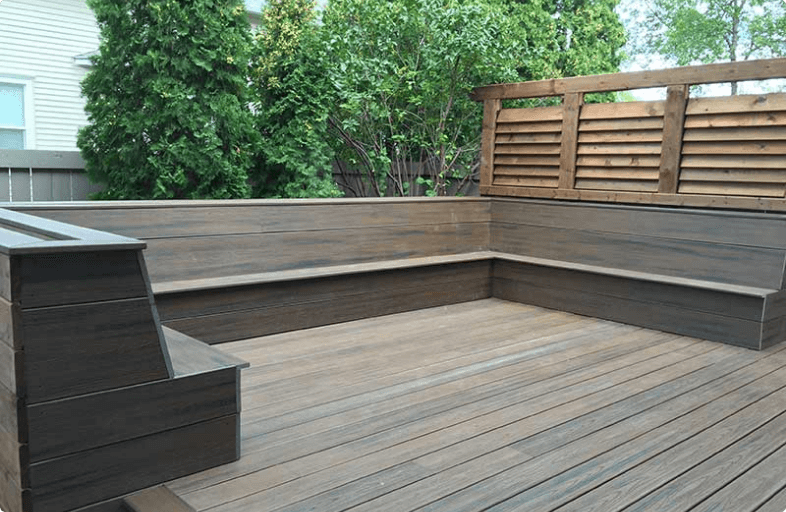 Deck Construction
If you're thinking about adding a deck to your home, then it makes sense to hire a deck builders in Edmonton to do the job for you. At Isle Group, we have extensive experience with deck and fencing projects. This makes us your ideal partner when it's time to expand your outdoor living space.
 Many customers don't believe it when we tell them that no yard is too small to be improved by the addition of a deck. However, that's precisely what we've discovered time and again.
Even the smallest yard becomes an eminently more usable space when it has a deck. If your yard is large, then you're even luckier. You have the opportunity to construct a deck that brings all sorts of texture, contrast and excitement to your yard.
Contact Isle Group to learn more about our services as the premier deck builders in Edmonton. We can help your dreams of a beautiful, functional yard come true.
Frequently Asked Questions
What is the best material for building a deck?
Traditionally, wood (either treated or naturally weather and insect resistant, is what was used as a staple deck material. However, composite decking has changed this notion.
With Trex decking, minimal maintenance can save you time and money on costly repairs and replacements. Additionally, this decking resists rotting, staining and cracking.
Is it expensive to maintain a deck in Edmonton?
No, the Trex decking is made out of composite materials that are designed for low maintenance. Your Trex deck can be cleaned with a simple combination of water and soap.
What is the best time to build a deck in Edmonton?
Any time is the best time to build a deck. With Edmonton experiencing one of the coldest winters, people assume that this is a sign to wait until warmer weather to build a deck. This assumption is false, no season is better than the other, decks can be built all year round.