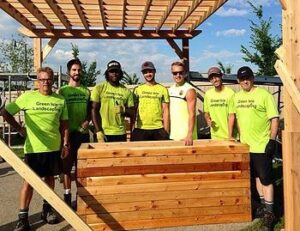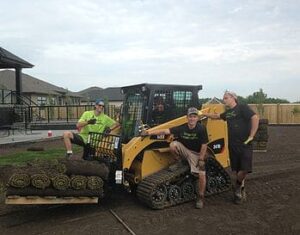 Green Isle did our landscaping in June of 2011. From start to finish Brian was professional and enthusiastic. He worked with us from design to completion and did an amazing job. Our project was started and finished on time. His customer service is exemplary, he returned many times to ensure our plants and shrubs were healthy. He went beyond what we would have expected and have been nothing but impressed. Our yard looks great and we would not hesitate to recommend Green Isle to anyone
Green Isle Landscaping was hired to do a major rework of our 40 year old commercial property. There were overgrown , spruce, birch and pine trees. The old needed to be removed and a brand new plan was discussed and the project was put into motion.
We were very impressed with the quality of work, just not only on the replanting of the site but also the removal of the old trees and sod was kept very clean daily. Our concern was that we were seeing clients through the process and it went without a hitch.
Brian's crew was very diligent and every tree was set perfectly the rock placement looks very natural and it is so nice to look out of the windows and see such a professional job.
I highly recommend Green Isle and if you are considering a landscaping job this is the company you want to call first.
I used Green Isle Landscaping in the summer of 2011. I was truly impressed on how organized he was as well as his subtrades. I found Brian to hard working and willing to work thru various types of weather to get the job done. Brian made himself available for questions and provided good recommendations on design but would also listen to what the consumer wanted as well. I have no reservations in recommending his company for any type of landscaping service you may require.
In the summer of 2011 my wife and I had the pleasure to meet Brian from Green Isle Landscaping. Brian gave us a reasonable quote for our landscaping project, a reasonable timeline, and a design that represented our vision. He was able to deliver on all aspects of the project….on time and on budget. He and his crew were a pleasure to be around and were very respectful and diligent about their work. Brian's follow up regarding the project was second to none. He made sure all issues were dealt with and addressed all our concerns. The service we received from Brian makes it easy for us to recommend him and his company. Thank you Brian.
Brian did all the landscaping for our front and backyard. We were very pleased with the service that we received. He took the time to understand what I wanted and what I liked. Once we decided on a design, Brian worked very quickly. He brought in the right people to do the work and we were amazed at how quickly the work was done. Brian is extremely dedicated and clearly loves what he does. I would highly recommend him for your landscaping needs because he goes the extra mile to make sure that his customers are completely satisfied. It was a pleasure working with Brian and would hire him again in a flash!
Brian, his crew and the subtrades he engaged turned an experience that we were dreading into a fascinating journey with very positive results. He took the time to get to know us, our expectations and our specialconcerns—like my insistence on keeping certain trees. In many ways our yard was a challenge, requiring the removal of old trees, a modification of the grade, and the replacement of some of our underground sprinkler system. We felt that we worked on the plan with Brian and his designer, Gloria Lind. They provided excellent advice and guidance about what would best serve our goal—-to have a beautiful but very easily maintained back yard. Once the work began, we were even more impressed with Brian and his team. He monitored their work and kept us informed. His team were hardworking, patient about answering our questions, and cleaned up as they progressed. Brian is a true professional. We felt that he was committed to providing the best result within the budget, and within the goals and on time. He did not disappoint us, and became a respected friend. We are confident that he will continue to stand by his work. The garden lights that Brian recommended have been a dramatic way to remind us of the beautiful yard that will emerge from beneath the drifts.
Hi Brian. Just wanted to say THANK YOU to you and your crew!!! We absolutely love the yard!!! You gave me more than I ever imagined we are soooo thankful for everything. It was such a pleasure working with you and your family….crew…you all are amazing !
We cannot say enough good things about Green, Red and Blue Isle Landscaping.   The work that they do, the manner with which they conduct themselves, their attention to detail and the excellent communication throughout the process are above and beyond;  the experience as a whole was outstanding, and we're very much looking forward to working with them again on future phases of our project.  At the beginning of the process Brian took a significant amount of time to learn about our family, lifestyle and future plans.  That initial focus on us rather than on layouts, budget, etc. was remarkable and refreshing.  Brian went beyond our expectations by producing two plans, one being exactly our dream landscaping for our mature family, and a second being a perfect plan for our young family — carefully and thoughtfully designed to allow for a smooth transition over time.
The three teams (Red, Blue and Green Isle) worked like clockwork to get the job done.  Everything was done quickly, precisely and in a professional manner.  Brian was on site daily and checked in frequently to provide updates and to address any questions that we had.  When off site, Brian was always available via phone or email.  With all said and done we now have beautiful front and rear landscaping and fencing that are exactly what we need, carefully laid out so as to make our future additions a very straight-forward process.
I am writing this unsolicited letter of recommendation for Brian Macarthur and Green Isle Landscaping based on the excellent work that they completed with landscaping at our new house. From the initial contact, my wife and I were consistently impressed with Brian's professionalism, his attention to details, his creative design, and the quality of his team's work. We heartily recommend Green Isle to you.
In selecting a landscaping company to complete the landscaping installation, we made contact with ten separate vendors over email and at the Edmonton Home Show. Most of them failed to make a timely reply to our contacts, and those that did provided minimal responses. In stark contrast, Brian was prompt in all of his contact, personable when we met, and readily accommodated our wishes in the landscaping design. Even though we received lower-priced bids to complete similar designs, we opted to work with Green Isle based on Brian's responsiveness and clear experience in his work. It has been an excellent decision.
Since my wife and I are both working professionals, we only provided basic ideas to Brian. He readily adapted our coarse ideas into a concept, which he executed smoothly. His work required co-ordinating with contractors from other companies. There were no delays brought on by the Green Isle team. Whenever possible, his team made progress on the job, and he always provided reliable timing. If he said some work was going to happen "this week," it always did. When the job encountered unexpected problems, Brian worked with us to resolve them, always being courteous and fixing any issues promptly.
While his professionalism was made our decision, our finished landscape installation was of high quality and we are exceptionally happy with the results. It was the finishing touch on a long home construction process, and working with Brian's has been an excellent experience.